Keep Up
Christmas Marketing Checklist
It's that time of year again! And we are out and about working with all our clients to ensure they have their December/January content all organised as we take a well-earned break from 2021.
It's funny how quickly December rolls around each year, and even funnier how surprised everyone is when it does get here.
While our clients don't need to think or worry about their marketing over the December/January holiday period (they know we've got them covered!), we thought it might be worthwhile sharing a little checklist of ideas for those of you out there doing the DIY marketing for your business...
Marketing Checklist
Some of the marketing activities to add to your To Do list asap are:
Christmas Close Dates - Make a banner and poster for your social media pages, eNews and email footers to remind people when your business is closed for the summer holidays.
Bye/Hi! Social Posters - A nice farewell message is a great way to end the year plus don't forget to remind people when you are back on deck in 2022!
Fun Photos - Like we covered in our Being Authentic blog post, make sure you take advantage of those opportunities to take photos with your team as you give out presents, enjoy Christmas drinks or even just the decorations in reception.
Business Hours Online - Don't forget to make use of your social platforms (Google My Business, Facebook, etc) to mark when your business is closed over the holiday period.
Gifts & Promotions - What are you doing to thank your staff, thank your suppliers/partners, thank your customers? Make sure it's earth friendly eg. a donation, something reused or recycled, something made of natural materials that can also be reused or recyled.
If you need help with your marketing over the Christmas/New Year period then give us shout and we'll give you a hand!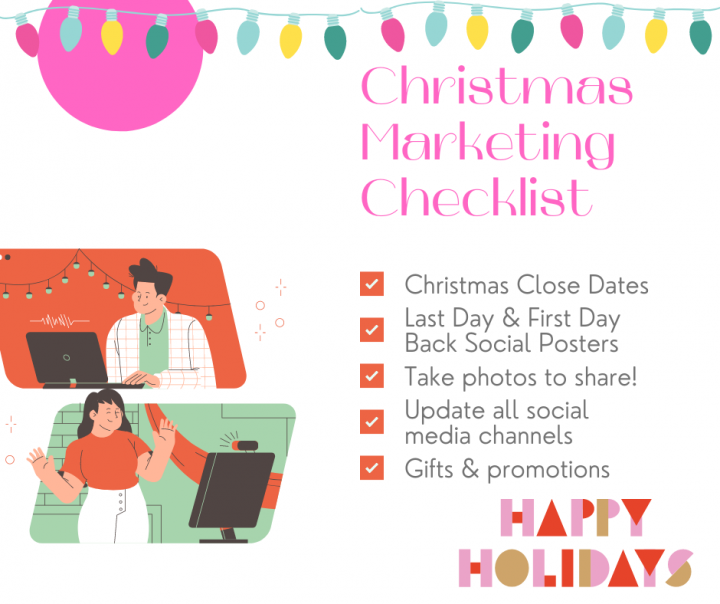 Now, more than ever, is the right time to make it FUN! Just a few preparations will keep your marketing running smoothly over the holiday period.
back to top