Keep Up
Website Platforms - Getting the right website for your business
We are constantly blown away by the fact that businesses don't shop around or do any due diligence when getting a new website - still! We are sold on the pretty front view (which, frankly, any web designer can replicate on any of the platforms we are going to cover off here!) but completely forget to look under the hood to ask:
can I understand at a glance how to use this or will I need extensive training for me and my staff?
can I add pages and grow the website myself or will I need to go back to the developer for simple extras?
where is the SEO content placed and is this integrated within the page?
And these are just for starters!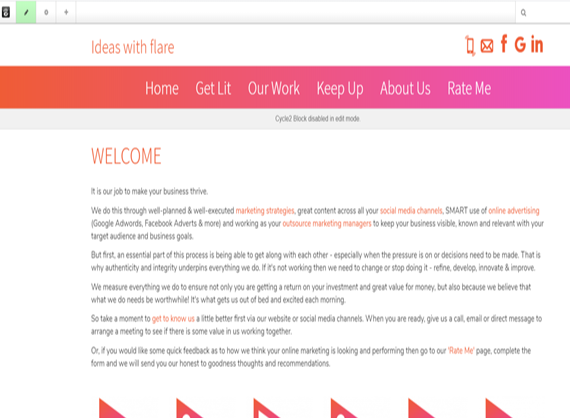 It's like going to a Toyota dealer to buy the best car for your rerequirements and then being surprised when you end up with a Toyota! If you go to an agency that only uses WordPress then you will only ever be recommended a WordPress website.

Every web developer or agency will sell you their preferred platform - as a marketing agency, we work across ALL platforms (we don't build any websites at all, we leave that to the experts) and so are in a unique position to give real, quality advice on the pros and cons of each.
WARNING: If you've only ever used WordPress and still think this is the best thing since sliced bread then maybe skip this post. A heads-up though, this will seriously limit your business...
So let's take a look, behind the scenes, at some different website platforms still popular today...
First up is our favourite platform and the one that is driving this website.
The best thing about Concrete5 websites (aside from the fact that they are all pretty much built the same by all the Concrete5 developers we've worked with over the years) is that the EDIT view is the same as what you see in PUBLISHED view - this is awesome for non-techy people!
In EDIT mode the edit toolbar sits at the top of the screen as shown here. Click on any of the page content (images or text) to select what you want to edit and click Edit/Delete/Replace to make your changes then Save to view your changes then click on the EDIT button again at the top of the screen to PUBLISH or Save Draft or Delete Edits.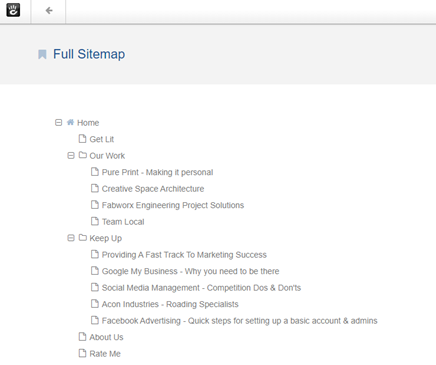 From the Dashboard button you can view your site map (as shown here) to move pages around by dragging and dropping, add new pages, delete or view pages.
Also in the Dashboard we can view and manage our image galleries, some clients also have Product Manager and Calendar Manager systems which are also super easy to use.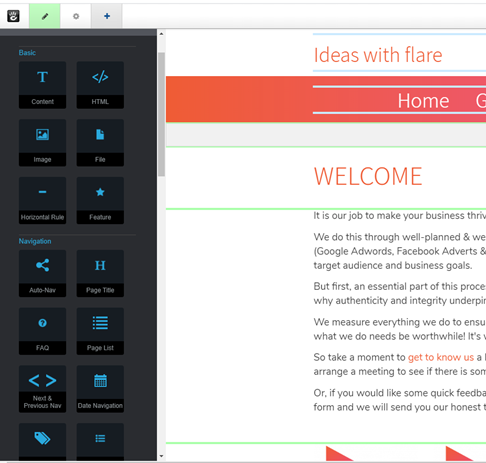 Building, editing or creating a page is as easy as we are now doing here in this blog post by simply dragging and dropping the tools you want into the page - as shown on the left side of this image here.
Your website developer will set all the page templates and font styles so that everything appears as it should.
In this blog post we have:
Created columns in our layout
Added images and aligned content next to our images
Ensure all the SEO content is complete and that the page is appearing in the right order
Made the post a feature so that it appears on our Home Page
Pretty awesome for non-techy types and those just wanting to focus on using the website as the marketing tool that it should be!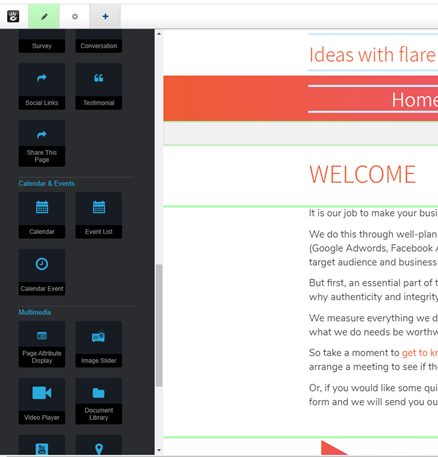 Some of the tools we especially love are the Video Player which you can place into a page for uploading your own video content without having to connect to a YouTube or Vimeo account.
Also the Testimonial tool is quite fun for inserting quotes from people relevant to the content (as seen in the intro above).
The COG button in the centre of the top left options opens the page Attributes, SEO and other sections which you can edit right here in the page. No special plug-ins, tricks or skills required.
WORDPRESS
The only reason this platform is second on our list is because it remains the most popular (why???) and widely used platform in New Zealand, although its popularity is now in decline thanks to better platforms coming along attracting businesses looking to upgrade.
A note on cost here - it's all made up and based purely on the hourly rate of your developer and/or website designer so it's important to shop around. We are constantly amazed at how much people pay for really basic websites! There is no going rate - it is based on the time or 'magic' you are sold on the day.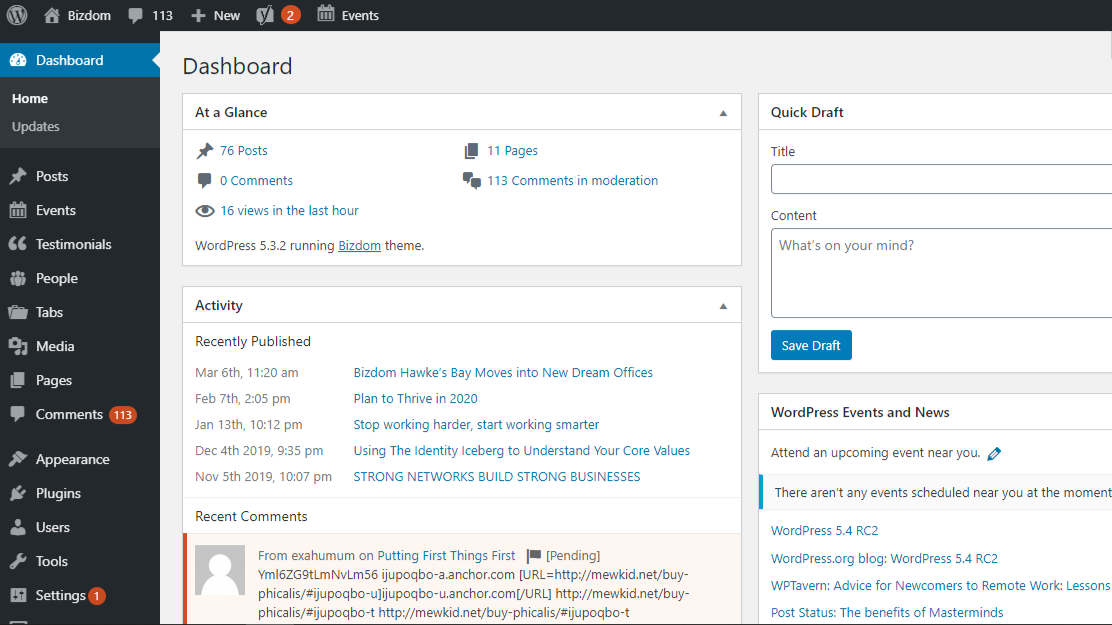 The Dashboard to all WordPress sites is always the same which is incredibly deceptive as all WordPress sites are built completely differently - depending on the skills of the WP developer, the amount of design complexity in the site, the amount of plug-ins required to provide the functionality required and so the list goes on.
However, right from the get-go you can see that this system is highly technical and not for the faint hearted. Designers especially love WordPress because they can really go nuts in this platform and are not limited by grids or systemised functionality - the rest of us just pull our hair out.
The Pages manager is where you can manage the page content only but you can't really manage the order or organisation of your website, you need to go to another tab for that.
This section works the same as the blog Posts section, after all WordPress was originally built as a Blog platform and has just grown from there without much streamlining I'm afraid.
The biggest issue with WordPress is the massive array of plug-ins required to build a website - even SEO requires a special plug-in as there is no existing SEO functionality in the page templates. You ideally need to purchase and install Yoast Premium to get SEO working effectively in WordPress websites.
The page content editing in WordPress sites is where things really start to get interesting as every WordPress site is built differently.
Here's a quick overview of the different types of WordPress sites following the image slide on the left:
Basic Site - Standard page content editor where you type in the content, you can add photos and a flat gallery. You always need to Publish and check what your edits look like on the Live site as they are not always the same as the editor functionality is quite unreliable.
Tabs Site - Maybe not the right name for it but this is where the designer uses a tab format to create layers of content and images. It's relatively easy to find and edit the content here but you have to have more website building skills if you wanted to create your own pages or add in extra content blocks such as video, images, etc.
Divi Site - If your designer suggests this then run for the hills! An absolute nightmare to understand as you can clearly see here. A fantastic system for designers who want to make things look pretty but so difficult for us everyday marketers and administrators to manage. Avoid at all costs.
JOOMLA!
We see less of these websites these days, thank goodness, as they are incredibly complex and really only worthwhile if you have a corporate events booking company where you need to manage multiple events across multiple facilitators and multiple locations all at the same time. This platform is highly technical and not that easy to make sense of, you really have to have your wits about you when working in Joomla!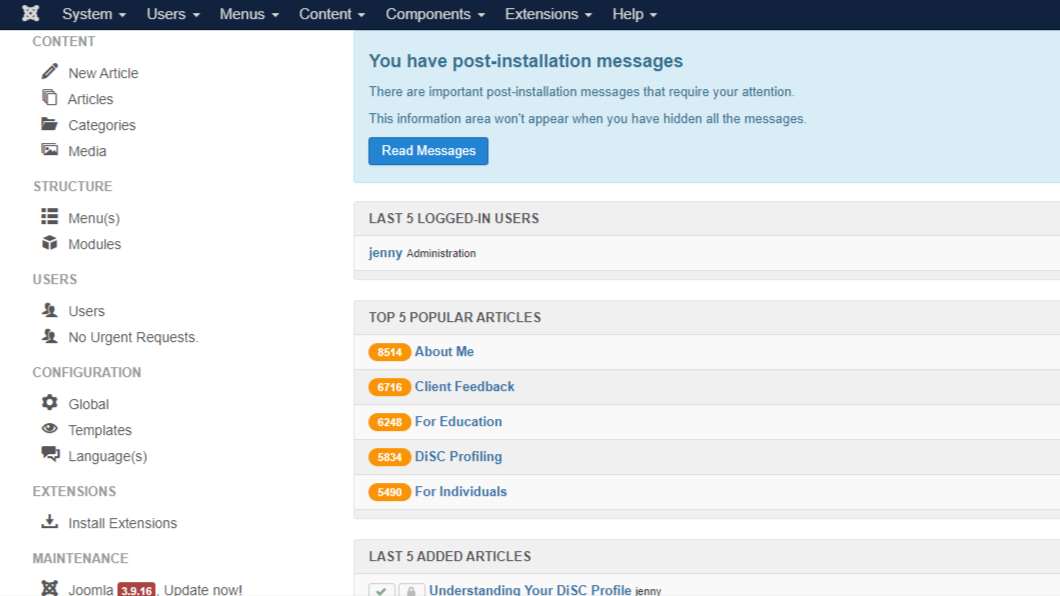 Looking in the left-hand menu first you can see Articles which is actually your website pages then Categories which is actually your blog pages and Media is your image library.
The top menu is a bit more confusing as you need to click around to find where each developer has put what - sometimes in Components but sometimes in Extensions. Every developer uses Joomla! differently.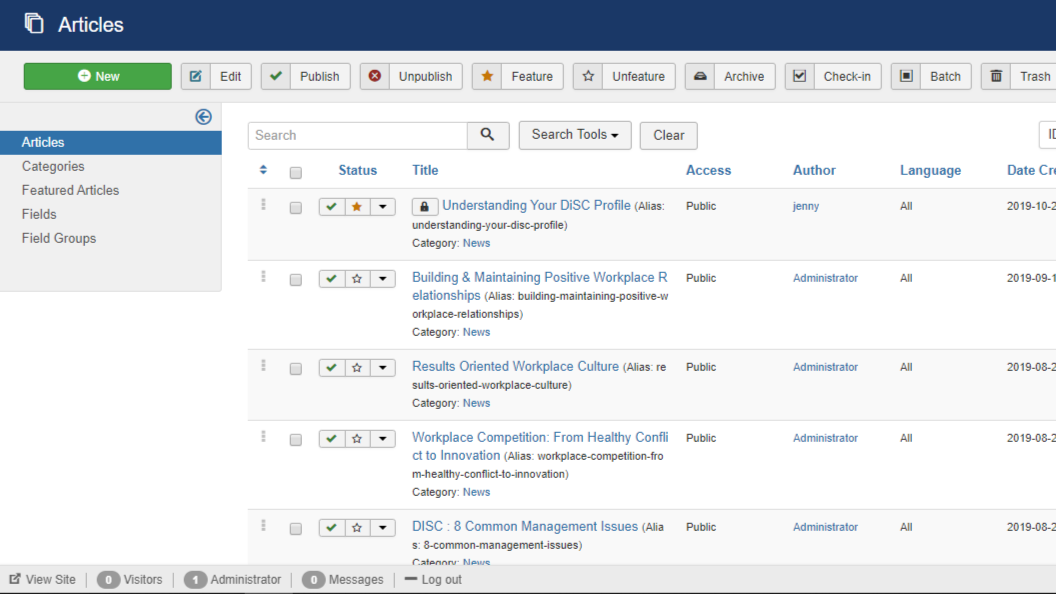 In the articles section you can edit page content and change the order but this isn't where you manage your site map/menu. You need to go to the Menu section for that.
The good thing about Joomla! is that it does have quite good built in SEO capabilities so that you can create and maintain meta titles, meta descriptions and meta tags without needing an extra plug-in.
back to top