As Tauranga's leading architectural design agency, the Creative Space team is focused on providing fresh and innovative architecture that compliments the way you live, function and work. Their service offering includes New Homes, Renovations, Commercial and Remedial designs.
As the outsource marketing team for Creative Space Architecture we not only manage their brand, marketing plan and delivery of all marketing initiatives but we also maintain their visibility with a monthly social media programme including:
Other marketing projects we manage from time-to-time include:
Photo shoots of new projects - brief & directing + photo selection
Video shoots & video testimonials
Special events - showhome open day, studio events, etc
Print campaigns & awards submissions
Advice on client gifts, advertising opportunities and anything else that comes up through the course of the year.
Examples of some of our work together...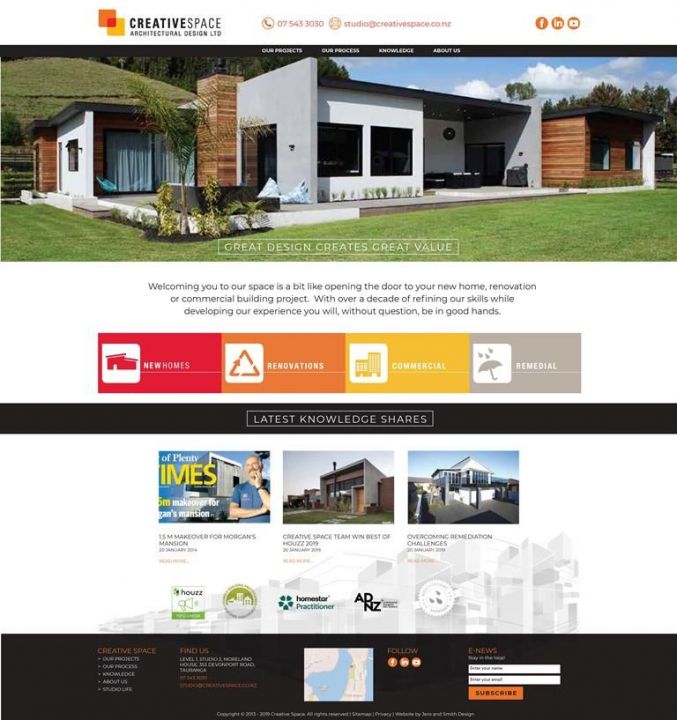 What Creative Space Architecture had to say...
Working with Lit Marketing has been such a positive experience for our company. Chantelle always comes up with viable & creative marketing campaigns that serve to lift the company profile and we have had strong measurable growth in areas such as online marketing and social media.

We are always provided with real-time feedback on our marketing campaigns alongside proactive suggestions on ways to improve marketing reach in areas as required.

Chantelle is friendly, knowledgeable and an excellent communicator. We couldn't be happier with what Lit Marketing has done for our company.

Regan Little, Senior Designer, Creative Space Architectural Design Ltd
back to top